Cottweiler AW19
The undisputed daddies of luxe, fetishised sportswear, Ben Cottrell and Matthew Dainty's latest collection is a wearable, concept-driven take on cruising. Known for their stimulating choices in set-design, this year Cottweiler overtakes an underground car park embellished with large, mossy urinals to vivify the show. The urinals are a humorous nod to late-night park meets. However, within the context of a runway show, they act more as abstract installations complementing the collection in colour and shape.
The colour palette is a mixture of moss green, electric blue and oil-slick black. Accents of chartreuse and acid-white pepper the looks. Challenging traditional masculine dress codes, much of Cottweiler's performance wear this season is translated from stiff, technical nylons to soft, printed silks and mohair. Layered over functional padded pieces, outerwear silhouettes cocoon around the body in hand-dyed shearling and foamy neoprene.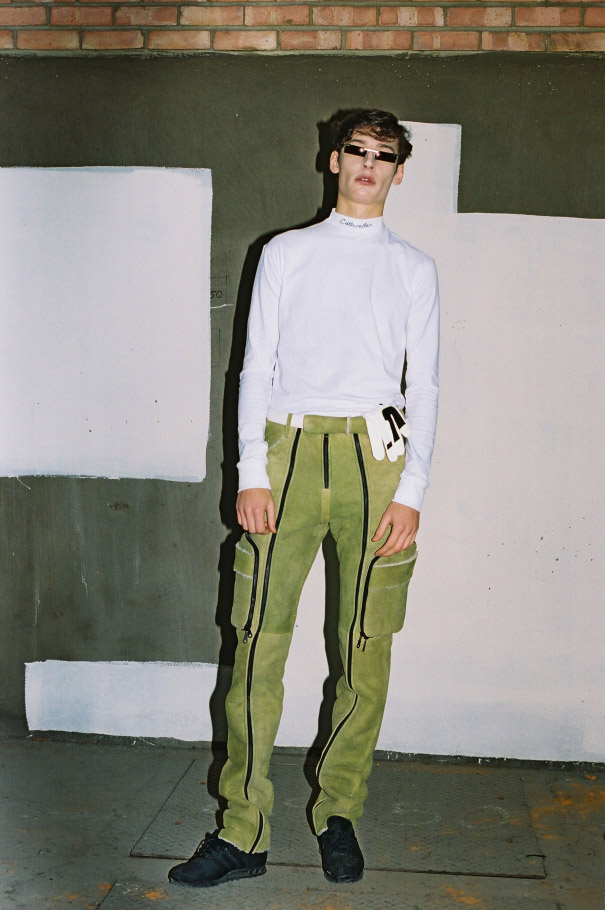 Signature styles, such as Cottweiler's famed tracksuits and logo'd sweats, run through the range and show no signs of leaving. Zips, straps and buckles act as finishing details across all looks. Accessories featured in the show are updated classics like naturally dyed caps, sports-inspired loafers, gloves and weekend bags. Scarves tied to belts, intentional rips in fabric and retractable dog leashes signal heavily towards the lost art of cruising, remaining self-referential and ever amusing without detracting from the beauty of the clothing. Cottweiler's latest is a look to the future with echoes of the present. It is a triumph of marrying functionality, fashion and outright humour in an Autumn Winter collection.