Carolina Lindberg
Ever heard about multidisciplinary designers? It is time to meet one! Carolina Lindberg, born in Spain and currently based in London. She is a visual artist and multidisciplinary designer, working independently in several fields across the industry, from fashion, music to body art. Her practice consists of the research of the contemporary culture to translate social aspects into images and generate new visual possibilities. Let's meet Carolina…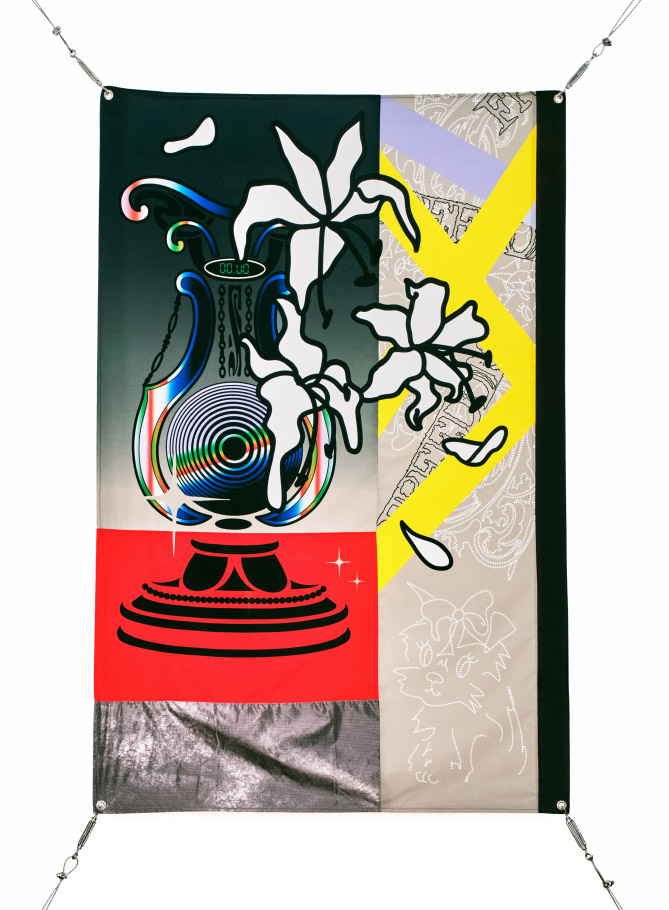 Hi Carolina, what are the best words to introduce yourself?
My name is Carolina and my second name is not Lindberg. I'm originally from Spain and I've been living in London for 2 years and a half now. I'm a multidisciplinary artist and designer.

Please tell us something about your art. How would you describe your work?
My work currently sways between several types of media, including digital, typography, product, textiles, installations and ig actions. Graffiti has played a crucial role in my style, since I started art making. When I was a teenager I made the move to work on larger surfaces for greater self-expression, but I was also in a world of predominantly men, which meant my work had to fit in or stand out even more so, to be treated as equal. The style of graffiti has influenced how I work with color; vibrant and contrasting, the creation of characters; as symbols containing hidden concepts and stories, and the creation of typefaces. It also has influence on which topics I base my work on, the situation with women is currently, the boundaries of freedom, the moral between good and evil amongst all. Each project I work on has a system, where all the pieces fit together and make a new meaning as a whole. They are all based on a series of feelings, social issues and ideas, and are an exploration of visual and conceptual references.
Talking about "Multidisciplinary designers" - how could you define this word?
Multidisciplinary designers are those who explore their creativity and imagination through a range of different forms of media. It also works with the term of art. I'm interested in gaining skills from different disciplines, experimenting with the possibilities between the physical and the digital and connecting the two, while trying to create my own language and universe.

You are currently living in London. Is this a place that influences you and your creativity
Living in London has undoubtedly marked a before and after in my life. In the first stage, its chaotic rhythm had me struggling to find a professional side of life and stability, but also had me contemplating what drove me to explore my career as an artist. From the beginning I've been immersed in enriching experiences – from the countless fashion events and art exhibitions to the unexpected parties in East and South London – that have allowed me to interact with talented creatives from all over the world. I have been inspired by this and it changed the way I now view life. Also the city itself - its architecture, its colors, its light… London can't be more inspirational.
You work in several fields across the industry. Which one is your favorite one?
Music and fashion play together. I've done a lot of work as a graphic designer in the fashion industry and I'm pretty excited about how fashion is currently embracing graphic design. I'm always looking for the next project in this field. Also, I've worked in the music industry. Last year I was commissioned to create the cover for the Spanish artists Sticky M.A. and Yung Beef 'Diablo' remix. I love making connections in this industry, the guys from Wedidit Collective are using one of my pieces on their new merchandise, and I recently asked english club music producer and DJ Noire, for a piece of music to be included in my last exhibition. I love working with musicians and the synergies that are generated by consequence.

Your design is also used for Tattoos. Are you also tattooing, or do you only deliver the artwork?
I myself tattoo the designs at home so I create my own private atmosphere, while I disconnect from the digital world and connect with people in the present moment. These designs normally come from previous images that I've created for a specific project. For instance, people ask me to get tattooed their birth year with my Art Nouveau numerography or the angels from the story of Lilith. So I also understand this as a second life for the concepts and the human body as a gallery in motion.
Your art variate from digital illustrations to art installations. Which is your favorite kind of work you like to do?
With my artwork 'Calima', was the first time I played with the concept of a big patchwork piece.I came with the idea and then I worked on a research to generate codes through digital images that I then printed on fabrics. Each panel is clearly marked by it own color block and separate by line – as the result of the own sewing. Also the elements inside sometimes go through these physical limits and connect panels. The artwork Calima started with a dream where a policewoman arrested me. She printed everything I've painted in the streets during my whole life but I felt an inkling of admiration from her.

That's when I approached the concept of hypocrisy, the passing of time and the limit of the freedom. With 'Flores En La Roca' I moved my work to installation in a natural way. First I worked on the patchwork and then suddenly I figured out the elements that could support the concept of flowers growing in hostile conditions like an aluminum and slate platform and a music piece. This project is a metaphor of how even given hard circumstances we manage to shine and evolve.Installation is the medium that I've found to complete my concepts in a 360º way and to involve and connect with the viewer.

Do you have any upcoming projects, that you would like to share with us?
I've got a few commissions and collaborations coming soon and I'm currently working on my first solo show which will be open at the beginning of 2020.