Luar SS19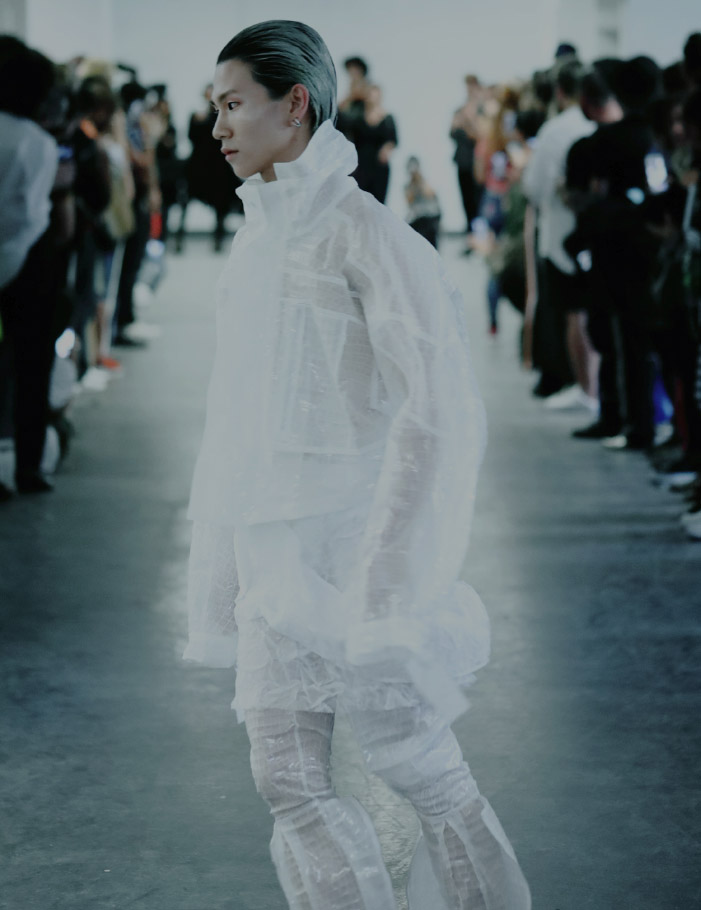 Luar was lit between fluorescent lights and large sunlit windows facing Canal. The collection was showcased at a closed down Duane Reade. Hair was tufted and tall by Tina Outen and makeup bold yet painterly by Yuki Hayashi. All of the clothes were white or generally lacking in color, yet the looks felt heavenly and a bit more fluid in concept.
The musical track of Sound of Music vibrated in the space. Then, it deferred and became another track entirely—On the first floor of the venue the lights were a-miss. At times, models walked tightly next to one another. The venue was two stories so models cruised between the escalator and the "runway." While the space was sterile, the garments were heavenly. I felt like I was in purgatory. Which here, existed somewhere between heaven and Walgreens.
Textures ranged from hard, sleek and fitted to soft knits with pleats. Looks gave a nod to both renaissance shapes as well as deconstructed tailoring and gestural draping. Sheer outerwear sans shirting gave the looks a styling hand, yet one that was not too heavy. Luar was an anthem for what we expect to see in the queer community in between the street and the club. Sheer whites felt ethereal yet seductive. It's clear why Raul Lopez has been nominated as a CFDA/Vogue Fashion Fund finalist. He is a keen maker and he's aware of how to market a product. While this was a literal Renaissance for Luar, Lopez did not leave out the traces of heavy hardware from his last.
Additionally, simple cursive script graced the fronts and backs of some garments branded "Luar." Perhaps this clean marketing spoke to audience member Humberto, a supporter of the brand and Co-owner of Opening Ceremony. Amongst audience members Lynn Yeager, Sami Miro, Haley Wollens, and Venus X attended the show.