Surfbort
It's not often that your friend having a spare ticket for a gig results in anything more than a moderate to severe hangover, drinking through the music just to make it to the other side whilst realising there was a definite reason that they weren't able to shift it in the first place. My first time experiencing Surfbort could've been one of those nights, a band name inspired by a Beyonce song could've gone in any direction. Their noisy tunes, infinite energy and lyrics that poke fun at everything from selfies to the government flipped what had the potential for deep regret into the Brooklyn based four piece taking up a permanent residency in my playlists, as well as a hard admiration for frontwoman Dani Miller.
Since your debut album release, have you learnt anything new about friendship or music?Dani: We are always learning new things but it's just been reiterated that friendship and kindness is really important in this crazy world, and it just so happens that it's really fun starting friendships through music. Muahaha! Friendship and music forever but also the people that make you a better person, reflect good energy onto you and put in the time are the best. I love a friend that no matter the time that has passed when you meet back up it's like you never missed a day apart.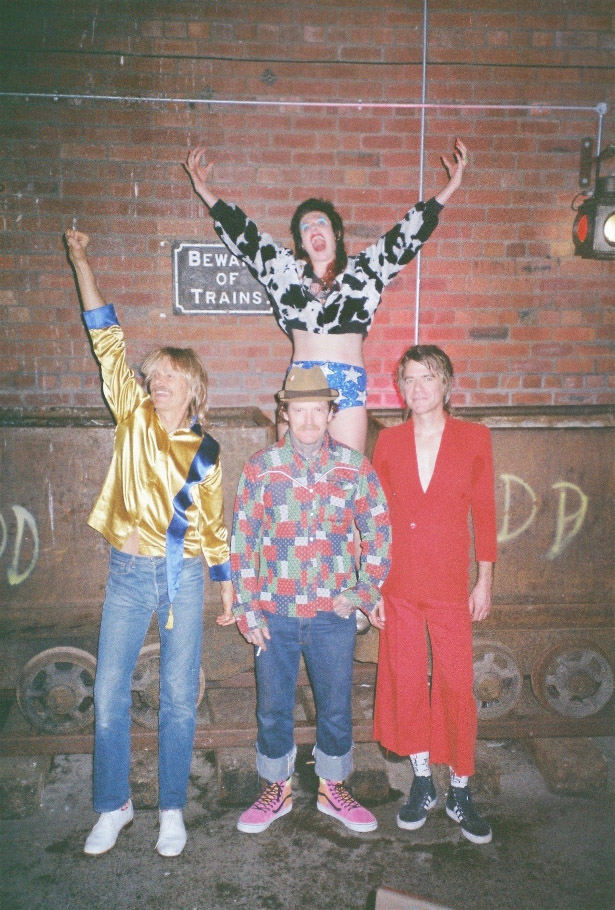 Dani, how sick of you of questions about being a woman in the industry?
Dani: I wake up everyday as an alien so I never really think about being a woman unless some weirdo throws it in my face or over sexualizes my body, tells me I'm not queer enough or good at music for a girl. The same goes for the industry, I mainly try to just keep working as hard as I can. I don't really even give into industry pressures, I just am myself and if it inspires people or brings them joy then that's amazing. The main thing that bugs me is when my band gets shut into a box of only playing "punk", we play all kinds of sounds and most of it has hints of romance so I don't like being shoved into a genre box. If they care about me being a woman or a man that's their deal!
How is working with the Surfbort lineup compared to the original one?
Dani: This lineup is wayyy chiller! I mean, I enjoy parts of what every member has brought to Surfbort but I do not miss the gnarly drug abuse or passive aggressive communication. Now it's all fun and music which is what I have always wanted it to be. Although I do miss Matt Picola I would love to play with him again. I'm also glad past members have gone on to follow a path which makes them happy. So everyone wins. It's important to not settle and to surround yourself with people who add magic to your life to help you evolve. Also I look forward to working with a bunch of different talented rad people in the future. I would also like to explore other genres, Surfbort is ever evolving.
What's the first song you guys wrote together?
Kilgore: White People was the first song we wrote together probably.
What's been the weirdest bit about touring the UK with Wolf Alice?
Sean: There wasn't much weirdness touring with Wolf Alice but lots of fun though, is that weird?
Dani: Wolf Alice are amazing to tour with and total weirdos, we had a blast! Um, Ellie drinks blue drinks a lot, Theo hung himself on a medieval clothing rack while playing guitar, Joel and Joff are extra weird and we had the gnarliest tour driver who kept us on our feet the entire time.
Kilgore: There was nothing weird about touring with Wolf Alice, it was awesome except the two times we got separated from our van and gear right before a show and stressed out the entire production staff...
How do you think people can stop turning our planet into a Trashworld?
Dani: Try the best you can. Never too late do better. Be nice to other humans be nice to Mother Earth.
Kilgore: People can stop turning our planet into a trashworld by being conscious of how convenience equals death. But I don't know if we're equipped to do that… it's a struggle for me.
Sean: The planet will heal itself and return to normal once the humans stop living on it.
Although you don't believe in Google, do you have a favourite meme?
Sean: Don't get me started on memes, once I start I can't stop: I am an ADDICT!
Kilgore: What's a meme? I only really look at memes that Sean sends me but I've sent this other one I like
Aside from your upcoming Europe tour, what's planned for Surfbort in 2019?
Dani: Two 7" releases, one out on Mudgutts in March and one on Modern Sky in April. Touring our album Friendship Music in Europe and the UK all of February before playing SXSW 2019, a festival in Madrid then working on a new album and a few surprises coming too!

Best music you've heard recently?
Dani: Trash by Kate Nash
Kilgore: The new Iceage album, my favorite song on it is probably Painkiller. My 8 month old daughter Panther just woke up and she really likes Hank Williams.

Best Tattoo:
Dani: Sean gave our friend Jason a tattoo and accidentally wrote "fuck you I won't do what you tell me."
Kilgore: The blobs on Sean's body.
Worst Tattoo:
Kilgore: A Primus back plate.
Dani: No such thing! Oh unless it's racist as fuck and evil but besides that I like shit joke tattoos and poorly drawn ones.
Best Film:
Dani: Natural Born Killers
Kilgore: Badlands, Lawrence of Arabia, Wake in Fright, Rosemary's Baby, Knife in the Water, Raising Arizona, Runaway Train.
Worst Film:
Dani: I love bad TV and movies, haha!
Best Takeout:
Dani: Toad Style in Brooklyn is so good and Cafe Gratitude in LA.
Kilgore: Oh, we should all stop eating take out food.
Worst Takeout:
Dani: Eh, I'm not a Yelper!