Vincent Gallo
Vincent Gallo's characterization of Billy Brown in Buffalo '66 is perfect. Red boots with a Cuban heel and a tight leather jacket shielding a sleeveless striped top which grazes the top of his jeans makes it even more perfect. So perfect that Layla (Christina Ricci) happily plays his faux-wife to impress his parents, even after being aggressively kidnapped by him.
Throughout the entire film, Billy battles with his past causing him to curl up into an awkwardly tense character which softly-spoken Layla has to put up with. The memories of his football obsessed mother, forever unimpressed dad, and his high school lover that got away taunt him, give him trust issues and cause him to push a loving Layla away at any advance.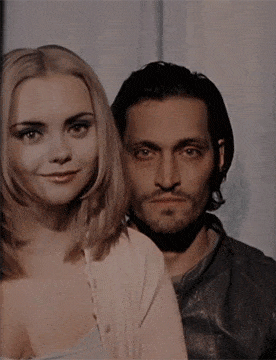 When Billy finally allows himself to feel emotion and forget his past he runs to the closest bakery to get his love a hot chocolate and a heart shaped cookie. Gallo creates suspense with his character, and the final quick turn of events gives the audience a sigh of relief when he intends to return to Layla.
Buffalo '66
director VINCENT GALLO
year 1998
director of photography LANCE ACORD
cast VINCENT GALLO, CHRISTINA RICCI, BEN GAZZARA, ANJELICA HUSTON and MICKEY ROURKE