Guglielmo Ghiaccio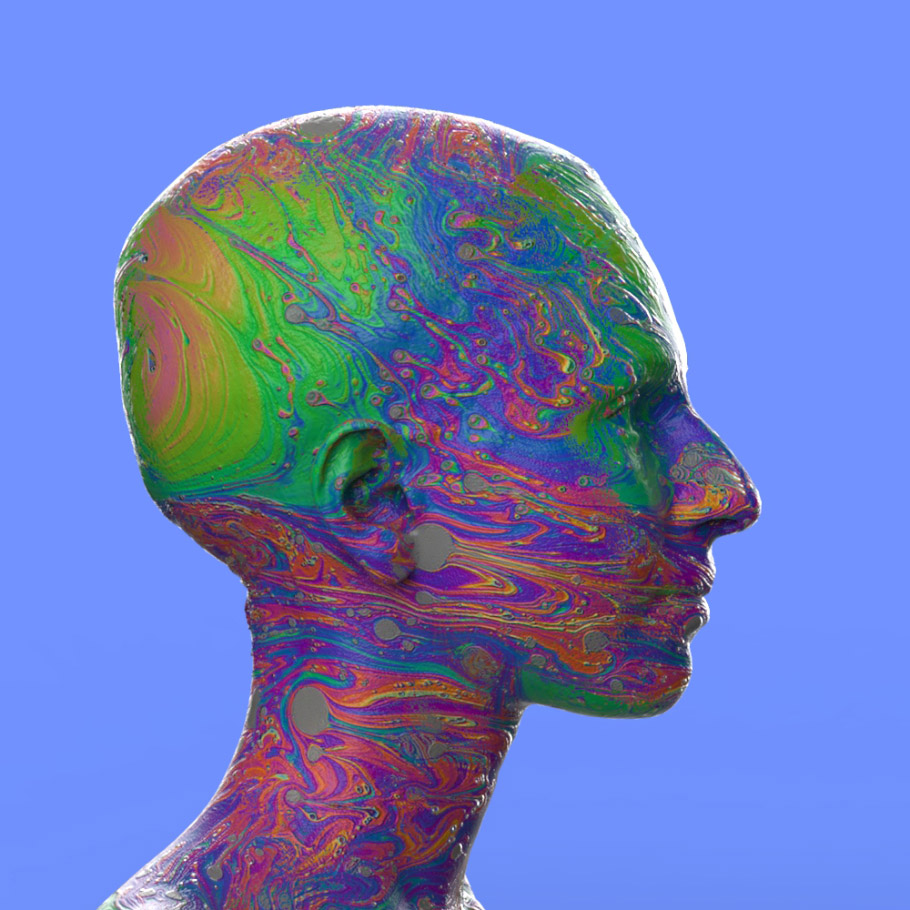 You were born in 1992. Do the esthetics of the nineties and 00 translate in your work?
I was born and grew up in a period in which a strong visual communication is made from images, from cartoons to advertisements, to the point of understanding themselves as an image. now more than ever it is important to appear and this is exacerbated by social networks in which each person becomes a collector of images of what he wants to communicate to others. So I am unconsciously influenced by the aesthetics of the years in which I live and consequently also my work is, especially for the technologies that I use that improve with time and make me more free to replicate what I have in while forcing me on the other hand to always be in step with the times.
Where do your surreal and grotesque fantasies come from?
From a book about monsters that my mother gave me as a child, from the stories my father told me, from the curiosity of the dark. I have always been attracted to this subject even though most people have tried to pass it off as an anomalous passion. Once in elementary school, we had the task of drawing the canticle of the creatures of St. Francis. I represented him as a vampire surrounded by werewolves, monsters. The next day the teachers called my parents ...
You say that the classics of art history inspire you. Which pieces are you talking about?
If I really have to indicate some works, these are the expressions that more than others have guided my work on forms, light and composition: the "universal judgment" of bosch, "saturn who devours his children" (goya), " the knight, death and the devil "by Durer," giuditta and oloferne "," victorious love "," the martyrdom of san matteo "," san gerolamo writer "by Caravaggio (among the artists I most admire, the name Joe Karava is a tribute to this great artist), the illustrations by Gustav Dorè of the Divine Comedy, "the raft of Medusa" by Gericault, "the madonna of the milk" by Fouquet but also "San Lorenzo on the grill", "the rape of proserpine" by Bernini, "Ercole and Lica", "head of religion" by Canova and many, many others.
How do they inspire you?
They are artists and works that represent for me a catalog of possibilities for exploring the unknown, in the contact between physical and psychic matter, which can disorient and provoke unheimlich. For this reason they often rely on the mythological culture that offers answers, and questions, that is Arianna's threads to find an exit, a land on which to rest the feet.
Who is your favourite ancient artist and what would you ask him if you could talk to him (like travelling back in time)?
There is not one in particular but if I could meet him I would ask Isidore Ducasse to explain to me some passages of his book, "the songs of maldoror", one of the readings that most influenced my stylistic choices and fomented my imagination.
What do you think would he say about your work - would (s)he like it, would (s)he hate it?
I don't know if he might like my job, but I think he would approve of the meaning of my research
Finally, what do you think of your work yourself. What does it bring to the market which we haven't seen already?

What I do corresponds to a phase of development of my interests and my artistic choices. sometimes I am attracted by opposing directions and tensions but in general I don't care and I let them lead me to a provisional result. Then I start from there if I think it's worth it. I believe that the novelty of my research consists in pursuing a classicism made up of unresolved tensions, a dream or a nightmare that come out of chaos and become a rational, geometric form. This is why I am fascinated by myth, the moment in which the primal forces are fixed in a visible and experimentable substance for man.
If you could say one thing to Matteo Salvini, what would that be?

What does it matter?