Stina Force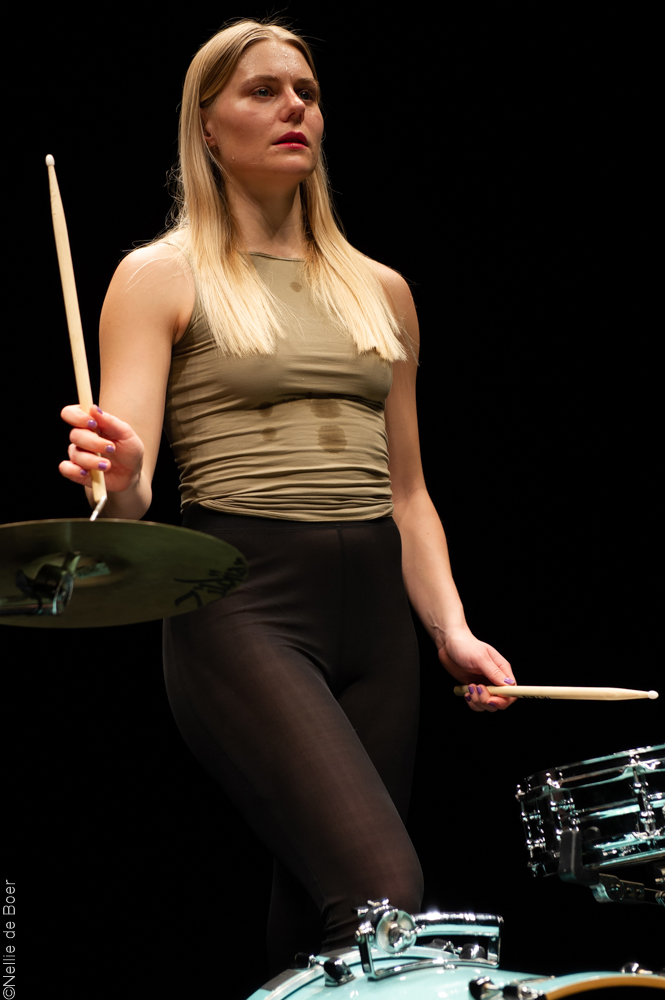 It starts with rhythm, slowly, that is changing into a hammering, you can hear the drums and you will hear her voice! Stina Force, born 1989 in Gothenburg, Sweden created her own single punk band. She is a drummer, singer, choreographer and performance artist. Well, seeing her once live will probably change your definition from a powerful performance. She acts raw and ambiguous, giving everything with her drums, body, and voice. Her performance, a mixture of music, poetry, and travesty, simultaneously embracing the grotesque and the vulnerable. Check out the full interview with Stina and please don't miss any of the videos, trust me it would be a pity.
When did you start your project of having a punk rock band?
I think the big realization of going for the one-woman-band was after I did a performance based on walking and talking; my mouth was shouting out ambiguous poems about spit and cum, the walking made it almost into marching songs. And shortly after a friend of mine asked what would be the ultimate act to do on stage? And I replied- to be standing up drumming and shouting loud. I had my debut in a music festival in Sweden summer 2017- next to the trash bin of the hot dog stand.
You graduated from the school for "New Dance Development". Did your study influence you to be extravagant in your performance?
In terms of aesthetic or attitude I would say no.. What the school gave me is a great amount of time and facilities for working. I always worked lots before - like a puzzle between several service jobs and my performance work. And school made me eligible to take out a huge Swedish student loan and take my time. And in the time spent there I gained a lot of tools how to communicate through my body- to perform. To learn tricks and spells, to craft almost anything to become something - like a magician. We have lots of workshops spent on becoming aware and examining our bodies, a lot of chakra meditations, death rituals and something we call movement research to name a few.
Did you ever considered to have a band (more musicians) next to you?
I do have one more band; SEKT. It's an impro band as well, together with Felicia Ljusteräng. She bangs her synth as if it would be drums and I smash and caress my vocal microphones on the drums to find feedback and vibrations - this together with fake language singing.
Sounds like goth-jazz someone told me once. I also meet many musicians playing around- jamming. And I'm always searching for more musicians.
Which stages are the best for you? A small underground pub or a big hall?
If it's something which fuels me to work it's just this. Since I enter the music scene from the performance scene and vice versa I get to play at different venues. One of my drives to start playing music myself was out of boredom from being an audience, I saw too many act taking their place for granted. And I want nothing more than to crush the habits of each venue. It's the best feeling when the underground club becomes so focused and quiet in shock from not knowing how to behave or when the theater breaks into laughter, shouting, forgetting about behaving.
The drums are the main element next to you on the stage. When did this love story start?
Try to drum and sing; it's very powerful, it's super scary at first - so loud and direct - mistakes are so hearable and banging them standing up its like loading a big thunderstorm. Just try it once and I think anyone would forever be drumming. My first encounter, is almost two years ago. Since I never drummed before and had the idea to sing as well I spent a lot of time with the drums trying to figure it out, also I think I always wanted to be a musician so all this talk about my raw sound being a choice, it's a lie.. That's why I started taking drumming lessons a few weeks ago. Also as a kid, my main way of communicating with the real and fictive world was through dancing since I hated speaking; drums always attracted me since it gives the rhythm. I only hear rhythm in songs, I'm deaf for the melodies.
Your performance is eye-catchy and hip! Do you have a role model who you follow/admire from the performance kind of view?
If I would choose one reference I would say Bob Fosse (1927-1987), a Musical theater choreographer, best known for the film Cabaret with Lisa Minnelli from 1972, and also many Beyonce videos are inspired by his works, like the famous Single ladies dance. I still get a shock every time I watch clips from the musical Sweet Charity (the rich man's frug is my favorite). Such simple simple gestures, are going through a transformation from ridiculous till sublime. I think he breaks a lot of expectations still, it reminds me of the exaggerated gestures of voguing. So when I think about it, Fosse probably took it all from the ballroom scene into the fine rooms. I also had a strong experience last year watching Circuits des yeux in Amsterdam, a lot of experimenting is going on with Haley Fohr's music and her voice is amazing.
Can you please let us be part of the feeling you have, while standing on the stage? Which feelings do you have while being on stage and are you still nervous or is it easy going for you?
This is the part where I reveal the entire spell, It's all about what is happening in my head, and in the room of where we would be; me and the audience. My act is mostly improvised. It's not about what it sounds or look like but the craft behind. I suffer from a very loud chatter inside my head, I think most of us have it. I call it the meta-voice; some call it patriarchy, self-hate, christianity, charismatic character traits etc. It's the voice who has opinions about everything you are and everything you do. Being on stage is a perfect setting to make this nervous chatter even more opinionated and amplified, since it's so loud I use it as a guide for my act. I completely resist and go against it or I actually reveal it. Revealing it often works as a comical relief I disarm myself and become a person in front of you. When I go against the chatter of opinions; which probably speaks about conventions of how one should behave, then I become a beast. So in one way I'm in super control and in one way I completely surrender into this nervousness.

I forget about it all and myself for a moment. I feel so good one stage. I found it really empowering; to experience the sensation of losing the control but also directing the focus of attention. It's about disarming and arming yourself at the same time.

You are touring all around the world, from New York to Amsterdam. Which is your personal goal you want to achieve with your music?
I think since I see myself as a substitute artist, to jump from one project to the next. I'm already engaged in other people's work where I might only be grunt-singing or hold the camera on a porn-set. I like when I'm working in a context where it destroys my habits, I use my solo-project as a transport to be able to collaborate in more projects.Though in ten years it would be amazing to call my one-woman-band an orchestra. And in three months I want to have a new repertoire to tour with for the next year, more music festivals would be fun!