The Witch Twins
Transmitted from a college dorm room, Robi and Alen Predanič use performance art to create "mysterious VHS tapes you find in the attic of the old house you have just moved in to".
Let's start by you introducing yourselves and how you started working together
Alen: We are Robi and Alen Predanič aka The Witch Twins and we are from Slovenia. We are twins, 25 years old and we've been living in the same college dorm room for five years. This is where we created our own world. We make our own surreal, eccentric and colourful costumes and perform and pose in them, usually in our dorm room. I mostly shoot and edit the photos and Robi focuses on recording and editing the videos. When we're finished we post it on Instagram. Robi went to college one year before me. We started listening to a lot of music from the 60s and 70s. We loved the warmness of the sound and visuals of the era. Inspired by that and other stuff like Harry Potter, we transformed our totally white room into a warm, psychedelic looking place. Throughout our childhood we were always in our bubble, creating something and escaping from real life.
Robi: We don't take life very seriously and we like to challenge man-made social constructs such as gender norms. Two years ago, we came out. Shortly after, we started watching RuPaul's Drag Race and because of that show we were inspired to experiment with wigs and DIY clothes. Our dorm room really played an important role in all of this, because it represented (and it still does) a safe, cosy and magical place where we could be authentic and creative. We actually used to dress up in women's clothes when we were in kindergarten and when we were home alone. We stopped, because we realised that boys were not supposed to dress like that. Through the years we used to be terribly embarrassedabout our 'weird' past and our sexuality. It's really liberating that the same thing that used to be such a burden, now makes us happy and proud.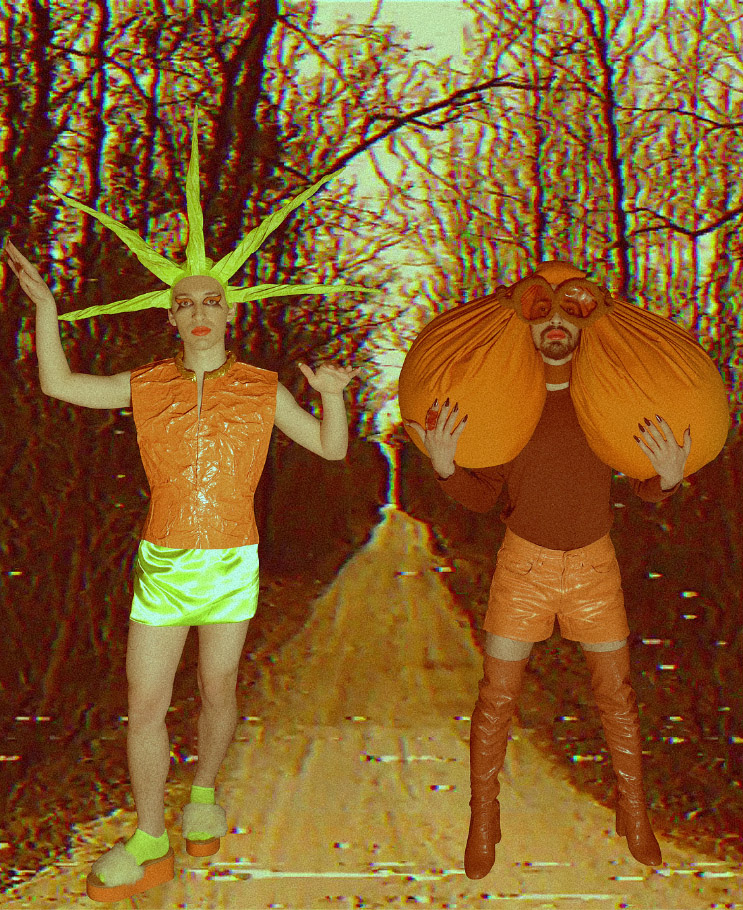 What made you choose the medium of performance art to concentrate on?
Robi: The reason I filmed myself in the first place was because of the cool VHS phone app. I realised I am comfortable in front of the camera while I'm in drag… it feels very natural to me. When I perform, I naturally gravitate towards randomness, humour and exaggeration. There are no rules in performance art, and I like that. Nobody is limiting me, I can express myself how I want to without being afraid of making mistakes.
Alen: Robi once asked me to join him in one of his videos. It was fun and it naturally became our thing. We also started doing photoshoots together. Performance art is not something that I was originally interested in, but it has become something that allows my costumes and fantasy to come to life.
Your work together has a very distinct aesthetic. How did this evolve?
Alen: We both like to be dramatic and ''larger than life''. We are expressing ourselves freely and we just do whatever feels natural. Renovation of our dorm room has helped us to figure out our aesthetic. We developed a colour palette that was very 60s and 70s inspired and we customised everything in the room accordingly, it came out psychedelic, and colourful. We continued that vibe with our costumes, videos and photos. When we buy fabrics for our costumes, we like them to have interesting textures and beautiful colours. Right now, we are into looking like trippy life size toys - colourful and not too complex. We also like to believe that we are undercover aliens hiding our big alien heads underneath our headpieces. We both love dramatic silhouettes and big headpieces.
Robi: When it comes to our drag, we like unusual combinations. If we feel like combining facial hair with long painted nails or a short skirt with a headscarf, we just do it. I enjoy making genderless creatures. I like to make my hips, shoulders, "hair" and accessories big. I like to transform myself; to create the most fabulous version of myself and confuse people in the best way possible… When I edit the videos, I like to combine footage of us with the footage of mysterious buildings and beautiful nature. The videos we make can be described as mysterious VHS tapes you find in the attic of the old house you had just moved in.
I interpret your work as very spiritual. Is spirituality something that's important or influential to you as individuals and/or your work?
Robi:I love combining art and spirituality, because that's the way to make meaningful art. I think by being authentically and fearlessly ourselves we send a message that is very much spiritual. I like my work to radiate a peaceful vibe and we do that through music we use in our videos for example. We also include messages of peace and love in our work by using symbols such as heart, sun and flower in our costumes, videos and dorm room décor. The warm edit of the pictures and the videos adds to the welcoming and peaceful fantasy, as well. My work is also spiritual for me, because it feeds my soul. I really enjoy what I do.
Alen: I love spirituality. I am determined to fulfil the highest and truest expression of myself and I know I can do that through art.

What has made you label yourself as a witch? Can you tell me a bit about this side of your creativity and how/if this influences your work as a duo?
Alen: Witches fit perfectly in a great fantasy. I've always loved witches. We both love magic, mysterious things and places. For me, a witch represents that. I often do magic and fly on a broom when I sleep, in my dreams and I love it. Not to mention, that when we were about 8 years old, we used to believe that we were magicians. We made a secret alphabet, special objects and we performed special rituals.
Robi: We naturally adopted this label, but we don't take the label very seriously. We also sometimes say that we're aliens. We love creating fantasies and by labelling ourselves as witches or aliens we do just that. A witch also represents a metaphor for an unconventional person. We are modern day witches in that sense.
You use very pronounced, textural silhouettes and there is a strong sense of fantasy through theatre. A visualisation of your combined imaginations maybe... can you introduce us to this alternative world you have created? What feeds this?
Robi: We are very compatible when it comes to working together creatively. Our work is heavily influenced by movies with exquisite fantasy worlds. Such worlds are mysterious, dreamy, magical and visually stunning. They consist of trippy characters, stunning costumes, detailed set designs, mysterious places and soul touching music. We're talking about movies such as Shrek, Spirited Away, Alice in Wonderland, A Series of Unfortunate Events, The Wizard of Oz, Harry Potter, Charlie and The Chocolate Factory and Titanic. Also, horror movies such as The Ring and The Hills Have Eyes. I'm very inspired by operas and musicals as well, because of the dramatic body movements and the dramatic vibe.
Alen: Yes, what we do in the videos and the photos is visualisation of our combined imaginations. A lot of stuff that inspires our world is from our childhood. From a young age we were very aware of beautiful and magical things that surrounded us. Our kindergarten teachers were very creative and really made sure that we experienced a lot of magical moments. We were also encouraged to be creative by our grandma. Her house was always well decorated and we used to draw, make jewellery and decorative napkins from paper when we were at her house. We loved fantasy and magic and we still love it as much as we used to when we were kids. Major influence from many years ago are sticker albums and beautiful illustrations from children's books.
When it comes to forming new concepts or beginning a new creative venture, how do you normally begin?
Alen: We usually start with a colour palette, or with ideas about our headpieces. We then draw a sketch of the full costume. Sometimes we have a concept about the universe our costumes and characters come from, but most of the time, each of us just does our own thing and at the end it works out.

Can you tell us anything about what you're working on right now?
Robi: I am making a music video for an artist. We will soon start working on some of our last costumes in our college years era. We are moving out in three months.
Alen: I am working on my music. I am also a singer and I'm looking forward to finally sharing my music. We are also working on prints of our work.

What does the future hold, where would you like to see your work in 5 years?
Robi: I want to continue filming with my phone app and make costumes and short movies. I'm also interested in performing live. Alen and I want to make an exhibition and publish a picture book of our work.
Alen: I definitely see myself on stage, singing in crazy outfits. Robi and I will continue to collaborate creatively on different things, because we love to work together.