Toopoor
LA-based musician Toopoor branded herself with an identity crisis and collides her artistic complexions with emotional gasoline. On the release of her new single 'Crazy Girls', she craves bleeding ears and more recognition for female artists.
Can you tell me a bit about the evolution of TOOPOOR? Is this image something that you developed over time or has it always been a part of you as Layla?
I'd like to believe Toopoor has always been inside of me, it was just a matter of finding her. And just like me, she grew over time until it was impossible to ignore her. The irony is, without Toopoor I'd be broke.
TOOPOOR has been described as a 'toxic fantasy' where did this guise or truth come from?
I believe some people referred to the Crazy Girls music video as a toxic fantasy, simply because it's written about toxic relationships. The line "it takes two to toxic" actually came from an SLAA meeting, which stands for "Sex and Love Addicts Anonymous." The lyrics aren't supposed to be a glorification of toxicity in relationships, it's to help realise it may not just be you or your partner, but you two as a pair bring the worst out of each other. A realisation.
What triggered you to start investing more time into your 'toxic fantasy' and establishing yourself as a musician?
I mean... shit. Just like you, and her, and him, and them, I've been through a lot of emotional pain/trauma. Especially in the last few years. Juggling my sobriety, breakups, death, bullying, etc, while drowning in my own self-hatred is not easy. I had to express myself somewhere. I think it's important to allow yourself to feel every emotion, and when you're ready to let it go, use it to fuel you. In my case, it's music.
So apparently you tattooed "Too Poor" on your knees with a pencil and needle. Can you tell the story?
The Too Poor tattoo is what started my whole identity crisis! I was about 20 years old, an intern and a sales associate at two different stores, a club promoter/host, and selling clothes online. Juggling multiple jobs to pay rent in a house off Melrose with 5 people, shit- what a time. Anyways, I ended up getting fired from one of my jobs, I came home devastated, repeating to my friends I was "too poor" as they all sat around my living room giving stick and poke tattoos. I then had the genius idea to tattoo my knees, too on one and poor on the other. Shortly after, I changed my username on all platforms to this and my social media grew with a different energy. It was unexplainable. It was taking over me. In a good way.
I know you have also worked in other creative realms, especially fashion. Do you see this work as independent or other extensions of your creativity?
I'd love for everything to all come together. It's all art. It all comes from the same place in my head and my heart. The worlds are bound to collide.
You've just released 'Crazy Girls'. When you are writing a song or forming a new creation, whether it's musical or within another realm, what type of process do you go through? What are your sources that you hark back to for inspiration?
Everything is very spontaneous for me. I don't work well when things are forced. It has to feel very organic, and natural. Lyrics randomly hit me throughout the day. Sometimes it's a couple words, sometimes it's an entire song. It's usually inspired by my emotions, and what I express out loud. Whenever I'm in the studio I refer back to my notes, and usually I pull from multiple. Melodies don't come as natural for me, but when they do, I record them in my voice memos and refer back to them in the studio.
And in terms of the technical production of your music, creating the sonic aesthetic, what is most important to you?
It's important to me that it stays true to me, as an artist. I won't ever release anything that doesn't feel genuine. Sonically, I want to mash genres, push boundaries, break the rules, and I want the listeners ears to bleed.
How do you feel about the music industry today?
I don't love it, it's a messy industry. Quite terrifying. However, there's a lot of fusion happening now, which I love. A lot of underground people coming out on top. And more female artists getting recognition. Still not enough though.
What's next for TOOPOOR?
I'm releasing another single shortly, followed by an EP, and then my first tour!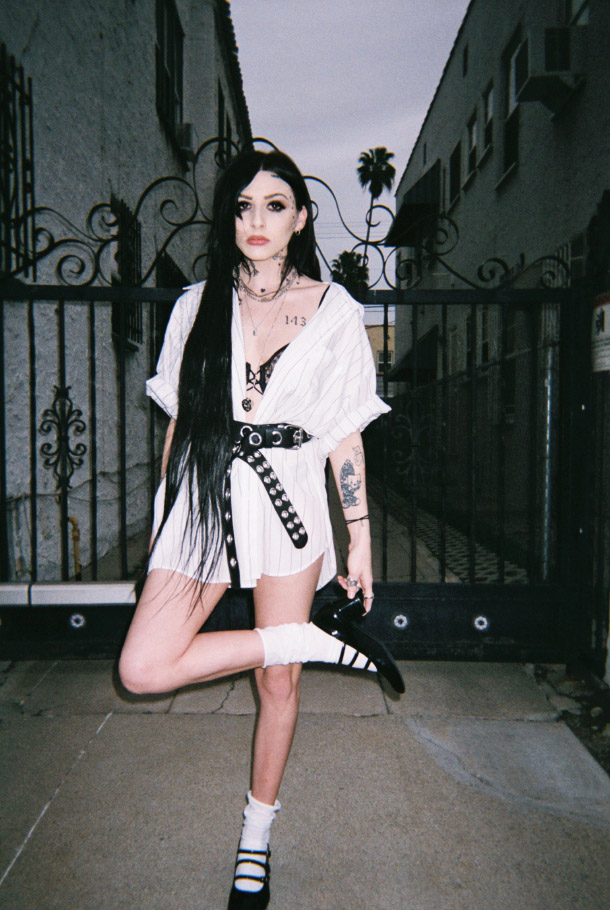 Is there anything else you'd like to add?
STREAM CRAZY GIRLS & GONE. AND TELL SOMEONE YOU LOVE THEM TODAY. BE GRATEFUL. AND THANK YOU FOR HAVING ME XX