Léo AW19
Brussels-based brand LEO sees spirituality as reality and representative of our generation lost in transit from an analogue to digital world. An intertwined identity, LEO is sewn with duality for the real woman. Its latest evoolution comes with their AW19 collection 'TRANCE'.
How do you find the dynamic of having multiple directors?
We find [it to be] rather an advantage, because it challenges us to stay on point. We think that our strength comes from each having a specific place in the company so that we can focus on different aspects of [the] brand. But it sometimes overlaps…we try to always be on the same line. We definitely don't always agree but those moments are key points in our creative process [and] we ask each other why we do or don't like something at a certain moment. This creates a lot of depth in the collections.
What led to you identifying that there was a need for "intelligently crafted garments for real women"? What made you want to materialise this mantra?
From the beginning, it was clear to us that we wanted to make garments that each translate our ideas and interests in shape, details and materials. Each one has a profound background and a story. They all explain a little part of one collection. We believe that a garment can empower someone and vice versa. You need to see garments on people otherwise they're not alive. This connection between garment and person is a very important element when we design. You need to feel something when you wear LĒO. Therefore, we don't want to design for a muse or a fictional person but for real women, who represent a certain mindset and an attitude.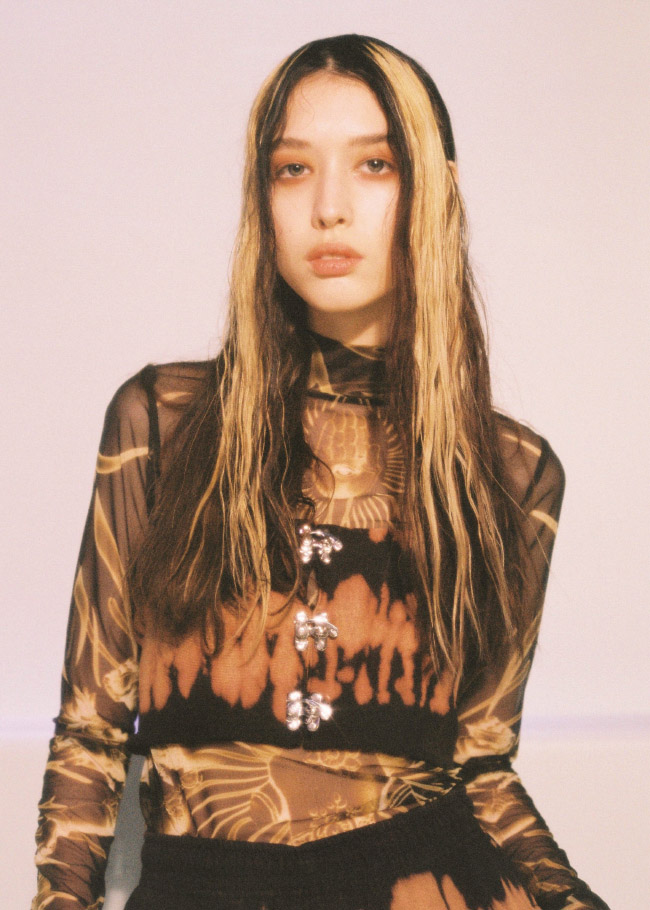 What made you particularly want to use 'intelligent craftsmanship'?
One of our interests is to continuously challenge and reinvent ourselves. We like the unexpected and love aesthetics that are not clearly decided products. When we see something and we are not sure what it is or why it is like that, it triggers us. For us the intelligent means a profound research for details and background that is processed every season. Craftsmanship stands for values and skills for us. We believe that our existence is validated because we invent and experiment with fabrics, finishings and details without forgetting the classical technique of making garments.
The brand seems to have a big focus on creating a new definition of the current, representing our generation. Was this intention for the brand influenced by personal experiences or more of an observation?
We believe that personal experiences and observations naturally go together. We are part of a generation of designers that are obviously trying to change the fashion landscape by demonstrating our current state of mind, thinking outside of the box and working more on a feeling or vibe, certainly not being afraid of bringing different aesthetics into an eclectic reflection of our time.
Across your collections and the brand ethos, there's an accent on spirituality and almost alternate realities. Where did this loyalty come from?
We embrace many styles and inspirations and like to use some 'no rule' humour here and there... The spiritual influences are an instinctive element and are definitely part of the reality of our generation at the moment. This element was very present in our latest collection 'TRANCE', where the title is already a duality, with itself explaining the meditative state of mind as well as the dance music. There's no doubt that we find ourselves these days sometimes in between rave parties and yoga addictions.
The names of your collections often associate to life in one way or another. Do you see them as separate analyses of LEO's subject, or more along the lines of a story being threaded together? In other words, how would you describe the relationship between each collection?
Firstly, the titles reference to the specific theme of the collections. They combine the different inspirational elements and reference often a certain nostalgia. We like to give double layers to the titles because they represent the variety of our inspiration. They also always play upon a certain 'in between' state of mind or movement one can find itself in and therefore, they all thread the brands identity together.
Who are the 'real women' of our generation?
Realness, in our opinion, is mostly about staying true to yourself. Real women are those who know what they're doing and they go for it. Every woman carries this inside herself…
With such a strong brand relationship to themes of life, evolution and spirituality, how do you feel about the ever-growing presence and influence of new intelligent technologies in the fashion industry? Not just regarding AI, but even the role of 3D printing and drones.
No matter which direction technology goes… and what that may mean for the fashion industry, we believe that the act itself always comes from a human perspective. Even if this means that humanity will replace itself. We feel very much that we are part of a generation that is in between the analogue and digital society and therefore, we embrace technology with a healthy amount of scepticism.