Linus Leonardsson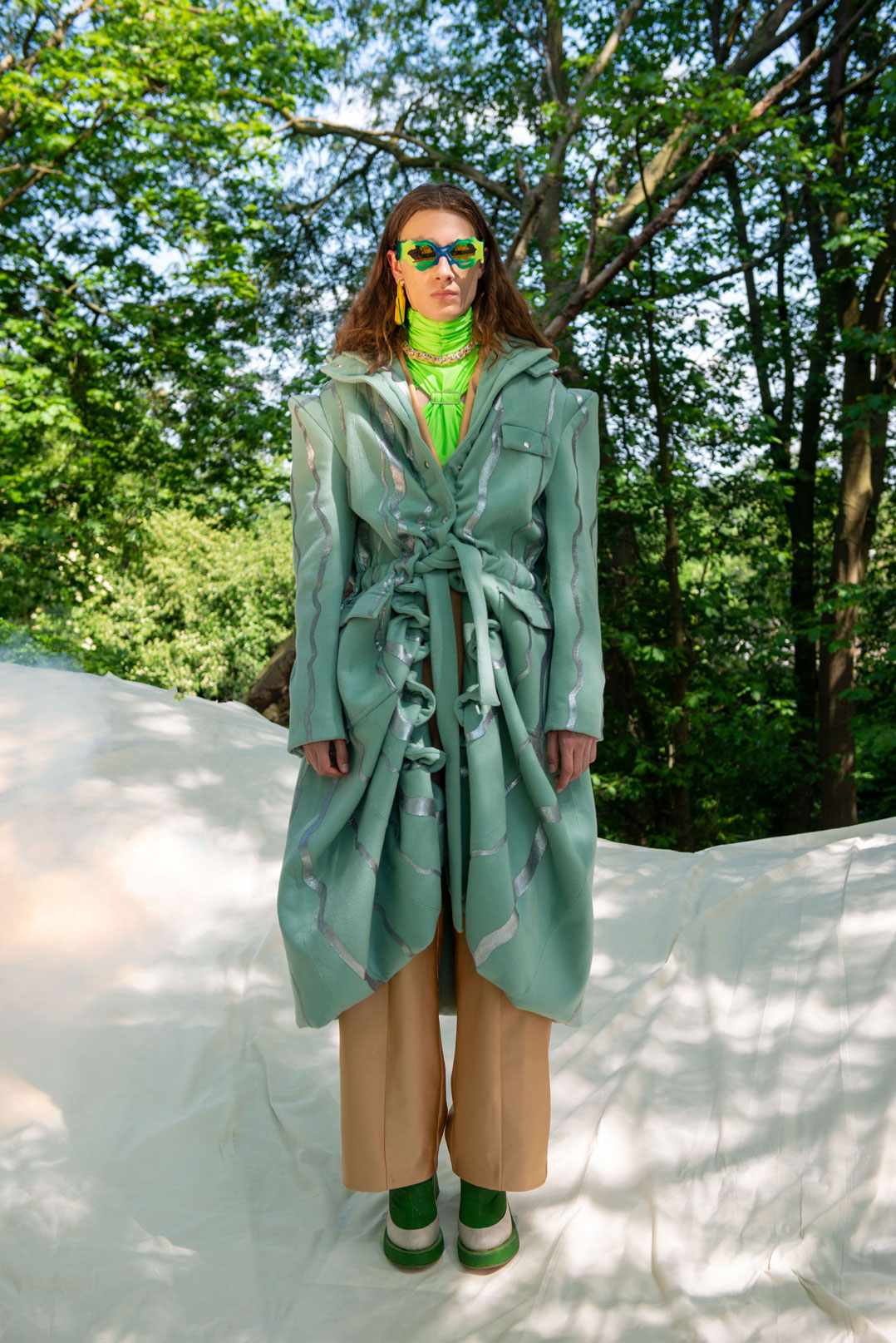 Linus Leonardsson is a London based designer who's ready to shake up the industry with his fantastical designs and sustainable visions. Daring to pursue is fascination and imagination, Linus moves and pushes the boundaries of freedom. Whether it's breaking social constructs or individual discovery. His work is a celebratory of personal exploration and free of self-definition. With an activistic mindset ready for change, Linus is off to a fabulous but conscious future.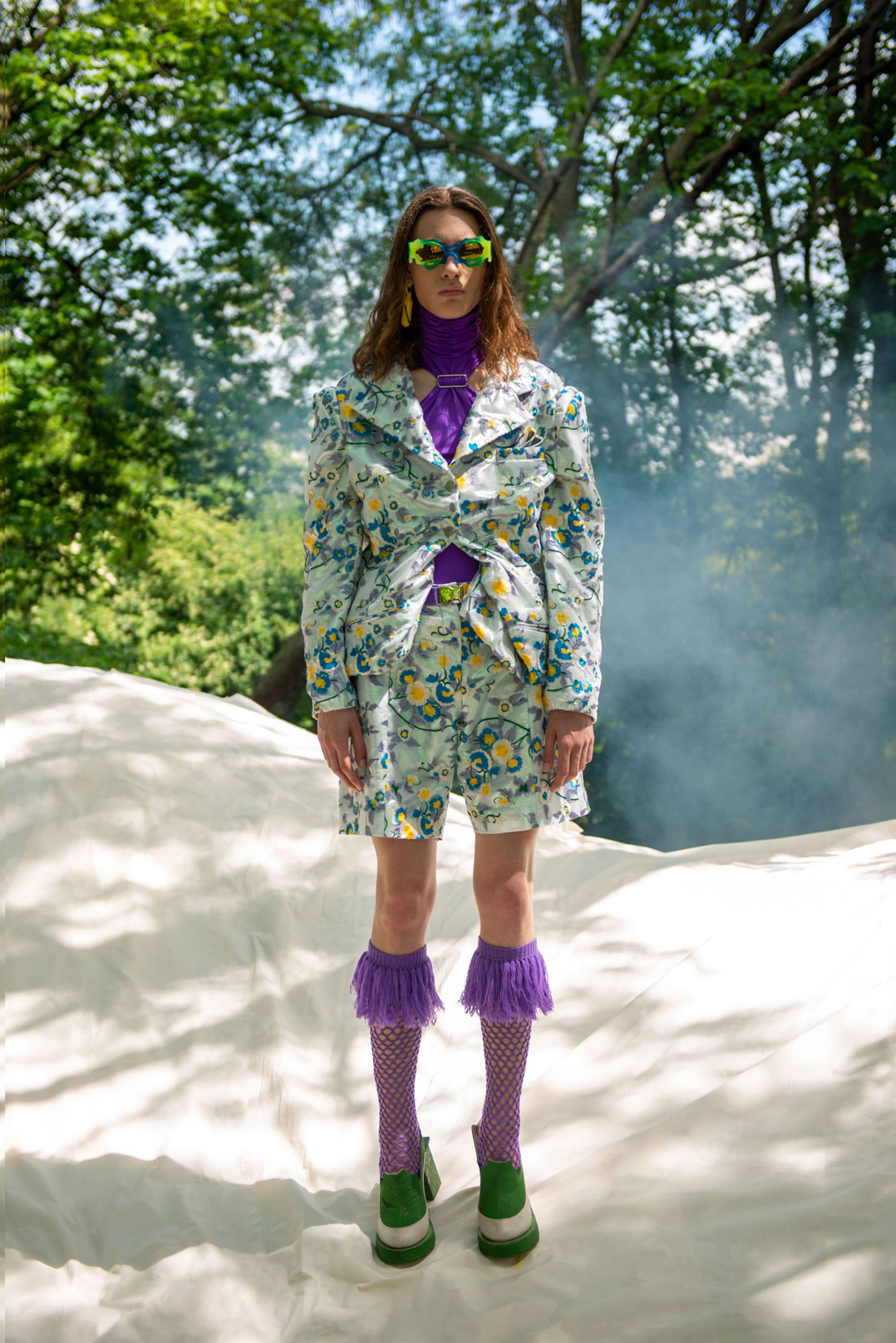 To those not familiar with your work, can you briefly introduce yourself and what you do?
I am a Master graduate from the Royal Academy of Fine Arts Antwerp from Stockholm and currently based in London. It is important to me to centre my work around serious social issues. However, I try to incorporate as much fantasy, glamour and fun into my collections as possible to keep it appealing to all the senses. Erasing gender roles within fashion is especially important to me, as well as paving a way for a more sustainable industry.

What was the vision behind your latest collection? What message did you want to make come across?
"See you in the fog" tells an autobiographical story of a young boy experiencing who he is for the first time at a summer night forest rave in Stockholm. The feeling of being young in a surrounding that is way more mature is the foundation of the looks, they reference a fear of not fitting in while trying to find out who you are. Eventually, the collection is celebratory of personal exploration and free self-definition. Another point I am making is about preserving nature whilst enjoying it. A downside of forest raves is the damage it inflicts on local nature, and as a reaction, I tried to make the collection as resourceful and environmentally friendly as possible, whilst still keeping it glamorous.
To what sources of inspiration do you find yourself moving back to?
Since an early age, I have been fascinated by how people express themselves outside of the norm. In later years I have started to look with more focus into the idea of gender as a social construct. Although the topics and inspirations for my collections vary, this is the one strongest commonality. Also, I am always intrigued by ridiculous things! In my opinion, fashion needs to be more fun; spontaneous emotions are extremely underrated in today's industry.

Your sunglasses in collaboration with Komono look amazing! How did this collab take place? What was your shared vision?
So happy you like them! Komono approached a few others of my classmates and me at the Antwerp Academy with the quest to make a creatively free capsule collection of eyewear with us. It got me very excited, and I started to look at nature and to specific trees for shapes. I was going for a strong contrast between artificial acetate sunglasses and natural inspiration. The colours reference sunlight peeking through the forest, meeting the harsh strobe lights of the party scenery.

In your creative process, what do you do to get out of your comfort zone?
I love meeting new people and getting to know what they are about and their perspectives on the world. This is something that automatically influences the way you work and adds new ideas to the creative process.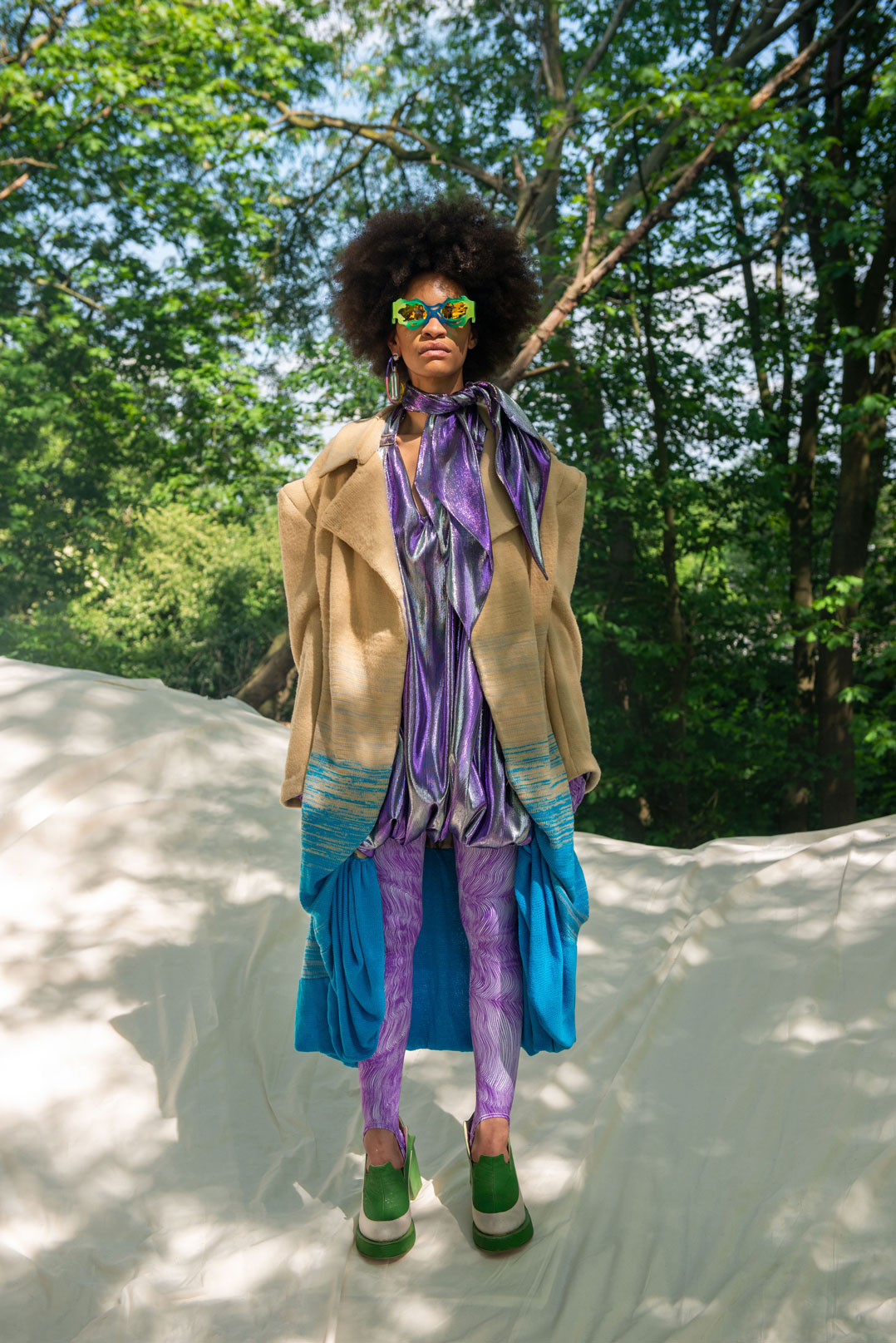 I see a lot of futuristic references in your work. How do you see the future of fashion?
Fabulous but conscious! As of today, the industry is totally unsustainable both for the planet and for the people working within it. I think we need to find a way to love and enjoy what we do, without harming the environment. It is what I have tried to do with this collection. Most of the fabrics and materials I have used are leftovers from people in my surroundings, which I have spent time with and love in order to upcycle and adjust them to being fun and lovely to look at. As an example, I got some leftover rope from an Antwerp knitting company that I crocheted into a top and other garment details, and interwove with metal chains for some sparkle and fun.

If you could go back in time, where would you go?
The future is bright and I look forward to living it, which is what I focus on rather than feeding into nostalgia. I like to think back to political change, which minority groups pushed for, such as the Stonewall protests. But I am also very happy that we are already past those points in history, although there is still much left to fight for. However, what I wish I could have experienced, are early ballrooms, raves and disco clubs which are things I draw inspiration from today.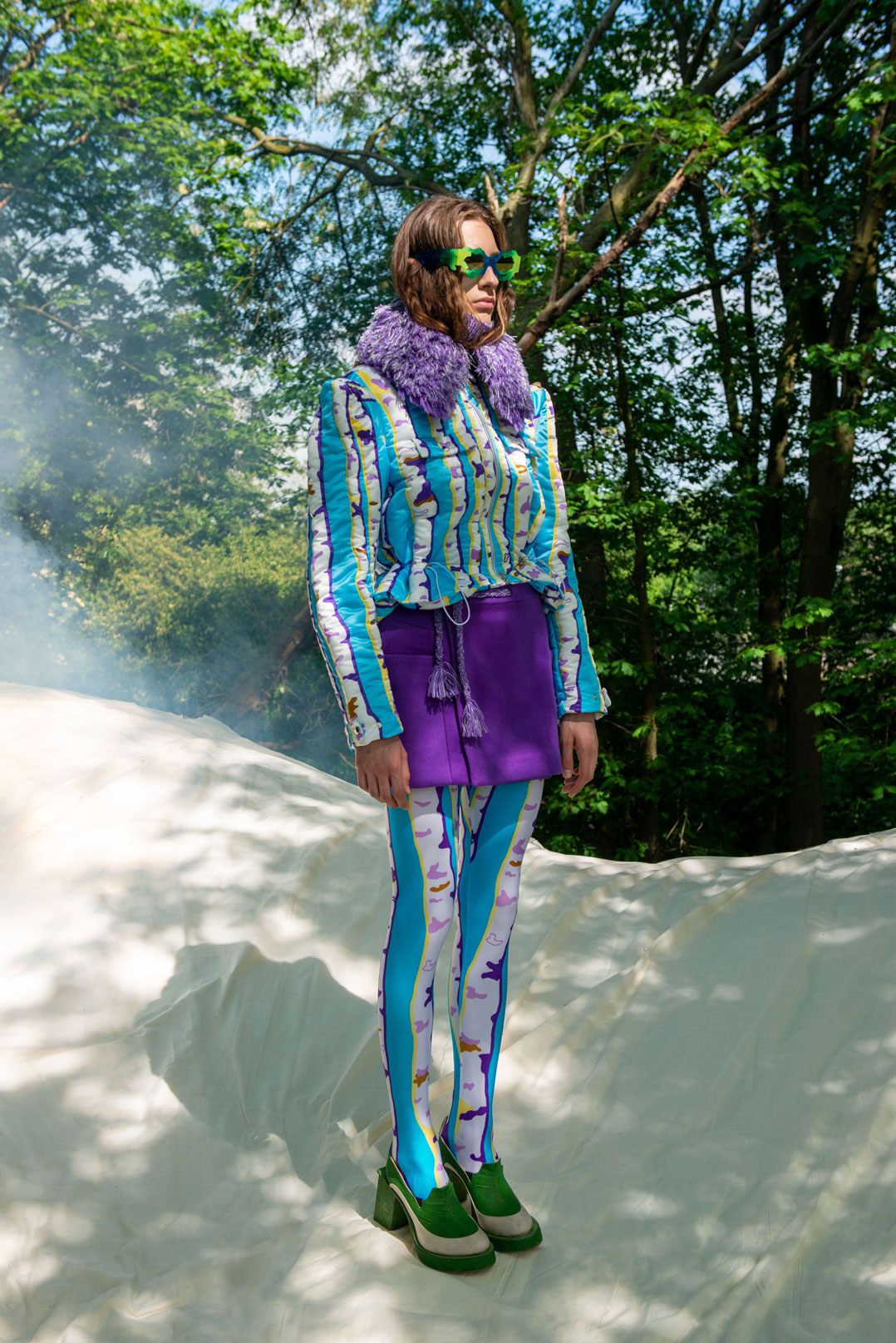 If you could design your own world what would it look like?
Sparkling! Champagne rivers, rainbows everywhere and flowers meadows all over. In my utopia, people are encouraged to express themselves completely freely and fearlessly. Right now my collection is my imaginative dream world, my fantasy scenery is that rave party in the forest, where everyone is accepted for who they are, mother nature is cared for and people are enjoying and expressing themselves to the fullest.

What can we expect from you in the near future?
I just relocated from Antwerp to London and I am going to explore the fashion scene here. Because I have had some very positive responses on the collection, and I am working on pushing it further and making it available to the world in one way or another.